Ari Kaplan recently posted results of his 6th Annual eDiscovery Unfiltered Survey, which deals with legal technology vendors and industry trends.
As we move toward launching our Proteus re-brand, I wanted to take time to comment on the findings, specifically as they relate to in-house legal teams.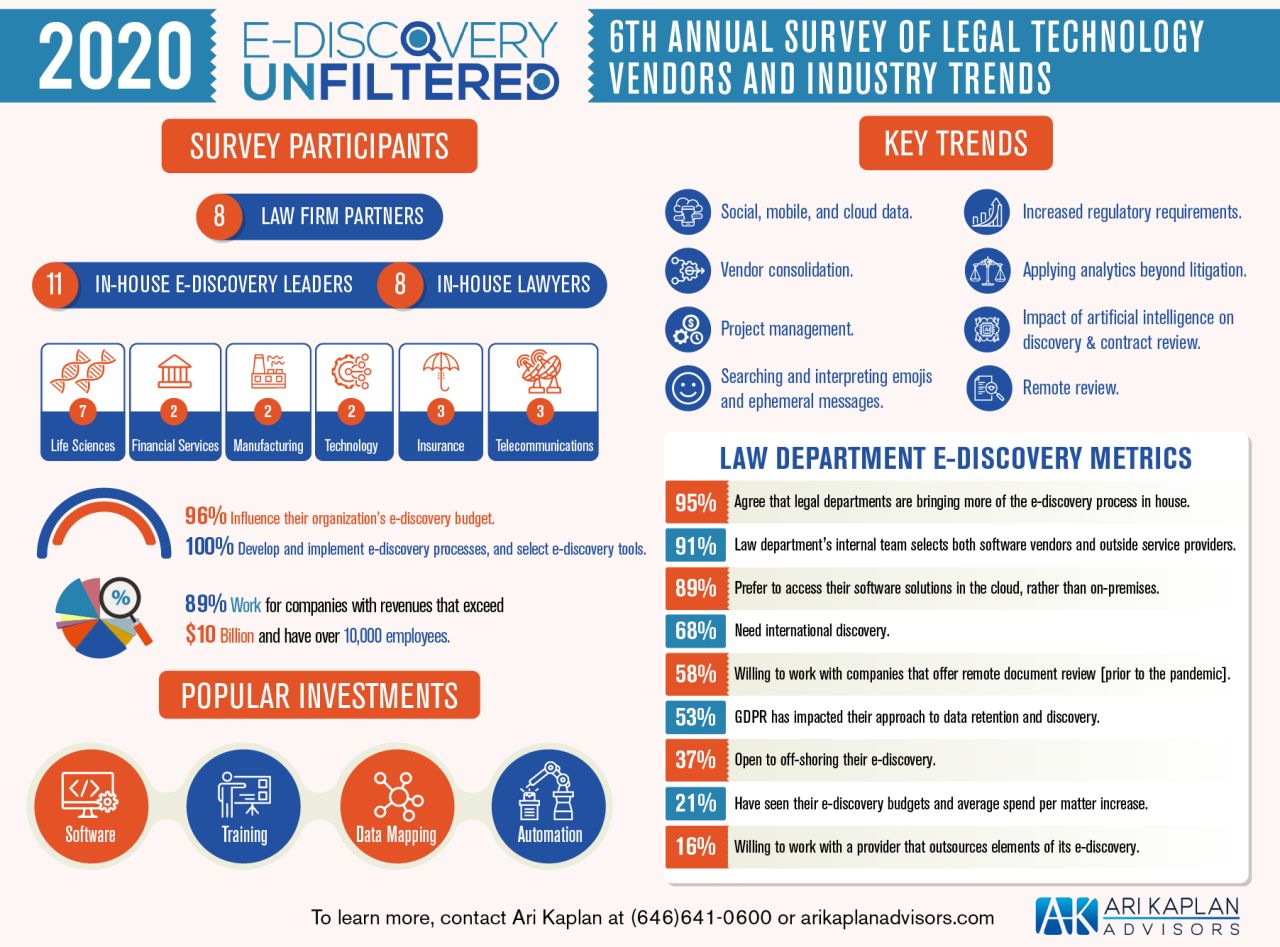 Key Metrics Among In-House Teams
95% of legal departments are bringing more of the eDiscovery process in house. This is not surprising. The explosion of data means corporations have little choice but to be more proactively involved throughout the information lifecycle, and eDiscovery was the biggest focal point of the first wave of legal tech innovation. Adoption of legal tech flows two ways: law firms can offer products to corporate clients, or adoption among corporations forces adoption among law firms. Any cursory observation of eDiscovery vendors (tech or services focused) shows that most reference their work with law firms and corporate clients. A word of caution to in-house teams, though, is to be intentional about which areas of the EDRM internal teams are most equipped to handle (logistically, technologically, and ethically). Self collection, for example, has been frowned upon in recent case law.
91% of internal teams select both software vendors and outside service providers. Traditionally, outside counsel was given carte blanche to build out their team and support structure as they deemed necessary. The rise of technology, ALSPs, metrics have shown that in-house teams are capable of assigning work to vendors best-suited to deliver consistent, cost-effective results.
89% prefer to access software solutions in the cloud, rather that on-premises. This is an area where most corporations are probably 5-10 years of most law firms. Many corporations know that just because they can physically see the server does not mean it is safe from cybersecurity intrusions. Penetration testing, two-factor authentication, and encryption - to say nothing of physical security - are all ways in which cloud security is often superior to on-prem deployments. Additionally, this alleviates the burden of a corporation's IT team from managing an application that isn't native to their environment or core competency.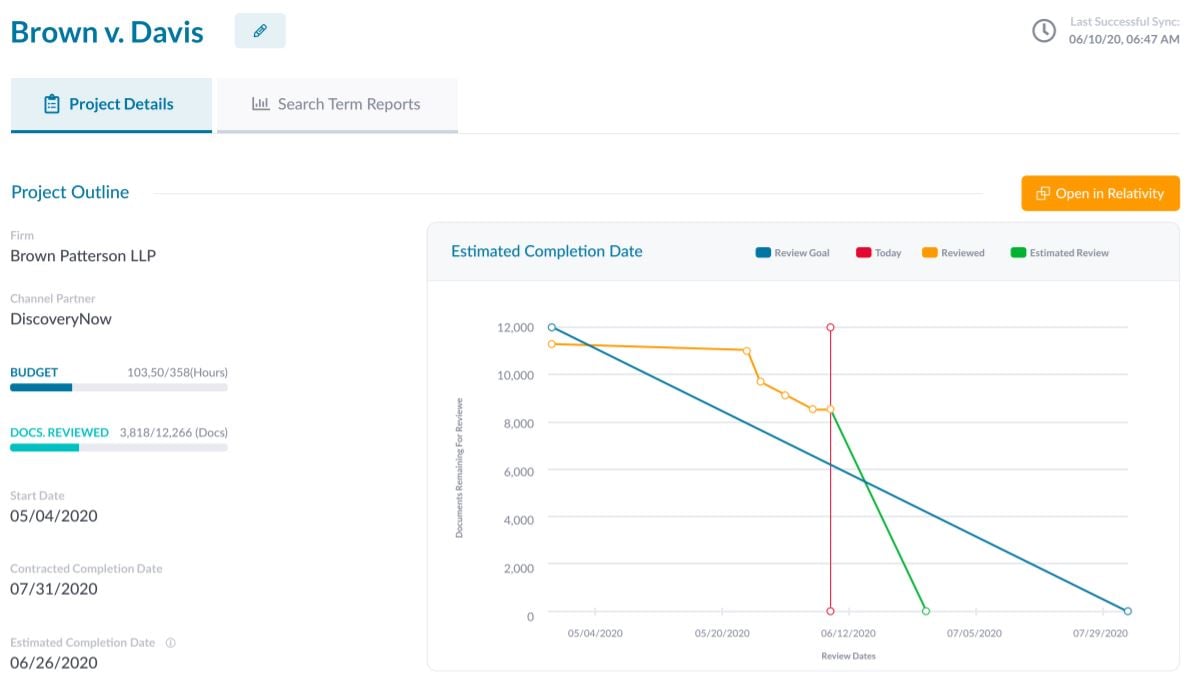 Key Technology and Vendor Selection Trends
Social, mobile, and cloud data is top of mind right now. Ever since we became a global work-from-home-first society, information governance and collections have been forced to enter a brave new world. Extracting data from Slack, Zoom, Office 365, and a multitude of other collaboration programs has become essential for eDiscovery vendors.
Applying analytics beyond litigation is another area of increased attention. Big data, data mining, data analytics....we've all heard these terms, but the legal space has generally avoided going deep in application. While insurance companies pioneered the use of analytics to reduce litigation costs, that methodology is being applied in other areas as well. While the inherently uncertain nature of most legal disputes makes true measurement by ROI fuzzy, smart vendors are looking to measure, iterate, and improve everywhere they can.
Popular investments include areas such as software, training, data mapping, and automation. This is evidenced up and down the value chain, from investments, adoption, to M&A activity. Categories have gone from nascent to mature in a handful of years, as evidenced by the rapid growth and acquisition of Doxly (now Litera Transact) and the growth of Pactsafe. Another of our projects, DiscoveryMaster, is a software application that provides deeper insights into Relativity projects across multiple channel partners. An example of the investment and growth in legal tech can be surmised in the fact that Doxly, Pactsafe, and DiscoveryMaster - three pieces of software in three unique areas of law, all originated from one mid-sized, Midwest city: Indianapolis.
With respect to data mapping, historically, Proteus is making a marked shift in emphasizing our Information Governance consulting. With employees ensconced in their spare bedrooms, many using personal devices on unsecured networks, the data clients are generating, where it's being stored, and who has access to it has never been more critical. The best time to have completed an Information Governance implementation was last February before everyone went home: the next best time to start designing, implementing, and enforcing a plan is today.
Putting it All Together
As organizations begin budgeting for 2021, in-house legal teams face a challenge that seems at once unprecedented and evergreen: having to do more with less.
General counsel would be wise to work closely with their team, IT leaders, and business unit leaders to compile a wishlist, justifications for the asks, ROI expected, and ruthlessly prioritize those areas likely to have the greatest impact on the organization as a whole.
If you need a sounding board or want to talk through options, give us a call. Or, reach out to the man who found these insights, Ari Kaplan.