The ongoing COVID-19 pandemic has fundamentally altered how most individuals and businesses are conducting their daily affairs. Chief among these adjustments has been a newfound dependence on remote technology.
Many pundits have hypothesized how the COVID-19 crisis will usher us into a "new normal" devoid of hugs, handshakes, and salad bars. Entire industries have been forced to pivot to a telecommuting workforce, schools are taking a crack at "distance learning," and individuals have been forced to adopt new methods of socially distant communication with friends and family. The common thread running through the examples above is that each of these interactions frequently rely on devices connected to the "Internet of Things", or IoT.
So, what is IoT anyway?
According to Forbes, the IoT involves "connecting any device with an on and off switch to the Internet (and/or to each other)."
One of the primary advantages of many IoT devices is that they eliminate the need for human-to-human transmission of data. Commonly recognizable examples of consumer IoT devices include:
Smart speakers (e.g., Amazon Echo and Google Home)

Wearables (e.g., Fitbits and Apple Watches)

Appliances (e.g., refrigerators, coffee makers, washing machines, and thermostats)

Home security systems
But IoT devices are also being used in commercial, industrial, infrastructure, and military settings. These IoT platforms include applications for smart pacemakers, digital control systems, traffic sensors, and surveillance robots.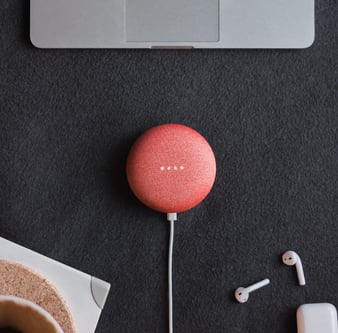 IoT Growth Projections
Even before COVID-19's appearance, usage of IoT devices had seen significant growth for the past several years.
Gartner forecasted that 8.4 billion connected "things" were being used worldwide in 2017 (

up 31% from 2016)

Prior to the

pandemic, Security Today reported an estimated 31 billion IoT devices would be installed during 2020

, with global spending

generating $1.29 trillion in revenue

The McKinsey Global Institute recently suggested the total economic impact of the IoT could reach between $4 to $11 trillion by 2025

,

with data volumes approaching almost 80 zettabytes.

For those of you keeping score at home, one zettabyte (ZB) equates to 1

trillion

gigabytes (GB).



COVID-19's Effect on IoT Growth
The post-lockdown reorganization of our business, educational, medical, and social interactions are likely to push those numbers even higher.
Perhaps nowhere is this more apparent than the unprecedented growth being experienced by video conferencing and productivity tools. Video conferencing has been in use for years, but deeper integration across different types of devices will generate more data and metadata potentially relevant to investigations or litigation.
IoT health platforms are on the rise, with notable uses including telehealth doctor consultations, digital diagnostics solutions such as smart thermometers, remote monitoring of elderly and at-risk patients, and even autonomous cleaning technology.
Chinese tech giant Huawei recently began modifying smart robots and drones into remote disinfectant sprayers.

IoT eDiscovery Implications
The rapid expansion in the usage and types of IoT devices will likely have broad implications.
Although almost all state and federal cases have been delayed due to court closures, consumers have already filed COVID-19-related lawsuits against the airline, cruise line, medical, delivery services, and retail industries.
Expect creative litigators to find additional uses for IoT data in the context of insurance, employment, contract, and product liability cases – all of which will likely increase as a result of COVID-19.
For several years now, IoT data has been used in criminal cases to assist with proving guilt or innocence.
In

State of Ohio v. Beard

, data from a Progressive Insurance telematics device

called Snapshot helped

conclusively demonstrate that a defendant father

could not have suffocated his infant daughter

based upon the time of her death and the time the device was in usage

.

In

State v Compton

, a defendant charged with arson

told

authorities he had quickly packed his belongings, broke a window with his cane, and was able to get himself and his possessions out before the fire could consume him.

However, d

ata collected from the defendant's pacemaker

showed

that it was "highly improbable" that the defendant's story was true.

Fitbit data indicating the time at which a murder

vicitm's

heart rate spiked, rapidly slowed, and altogether stopped were used in conjunction with video surveillance footage to refute a suspect's purported timeline of his visit with the victim

and her condition when he left.
As the frequency of IoT discovery requests increase, so too will the challenges faced by the parties responsible for preserving, collecting, parsing, reviewing, producing, and presenting the IoT data.
Litigators and eDiscovery specialists will need to be able to gain access to the data from potentially reluctant

or

even

uncooperative

manufacturers.

Data preservation presents its own unique issues. The legal world will need to devise and implement new strategies to avoid accidental or intentional ESI spoliation, as some IoT evidence may be lost through

unsynced

data, power supply interruptions, or disabled internet connections.

E

ach device produces a unique, independent data stream

,

and different devices could have distinct operating and filing systems utilizing proprietary

hardware and software.

While there are tried-and-true methods for defensibly collecting and producing

ESI for email, mobile device, and network data, the same is not true of many IoT devices.

The tech and eDiscovery industries will likely need to create numerous new applications capable of translating and filtering this quantity and variety of data into a usable format for ESI review platforms.
When paired with a potential explosion of expected litigation, the surge in the utilization of IoT devices could very well foreshadow some immediate and substantial hurdles for litigators and eDiscovery professionals.
While legal tech industry warnings regarding the approaching tsunami of IoT data have been sounding for years, it appears more likely that the seismic shift in societal norms emanating from the COVID-19 crisis may finally move it into action. We can help you craft defensible policies surrounding these issues, and navigate investigations or litigation.