I was recently introduced to Irasema Jeffers (whose background includes serving in the United States Marine Corps, running operations for one of the largest companies on Earth, and working in digital marketing, where she served many law firms and legal service providers).
After countless attorneys and paralegals told Sema they are overwhelmed by the depth and breadth of eDiscovery vendors in the marketplace, she set about building a Yelp-like experience. The result is OnCall Discovery.
The OCD team equal parts intelligent, innovative, and fun. We're grateful to be featured and to be early supporters of their platform.
The following was originally published on OnCall Discovery's blog.
How Big Law litigation partners turned to eDiscovery entrepreneurship to improve client services
The eDiscovery industry abounds with talented, innovative technologists and litigators, many of whom have been driving the evolution of the industry since its inception. The founders of Proteus Discovery Group – Ray Biederman, Sean Burke, Hamish Cohen, and Jon Mattingly – count themselves among those industry pioneers.
As young litigators at an AmLaw 100 firm, they were among practitioners who developed – and often improvised – the earliest discovery methods and practices, hand-coding documents with colored sticky notes, maintaining families with binder clips and slip sheets, and using a physical Bates stamp to mark documents with critical identifying information.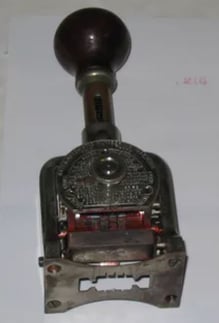 But as technology proliferated the workplace, smartphones, tablets, personal devices, and social media meant the partners increasingly found themselves facing litigation and discovery projects with exponentially increasing volumes of electronically stored information. The realization that data and discovery management were becoming a specialized area of law wasn't very far behind. As Sean noted, "We all had a front-row seat as 'discovery' became 'eDiscovery,' and we understood that if we were to effectively serve our clients, we had to understand the technology they were adopting."
The partners began developing their expertise in ESI management and eDiscovery, focusing on the intersection of tech, the law, and effective litigation. In particular, Ray found himself specializing in emerging methods when he was tasked with coordinating international discovery for a highly public medical device product liability MDL. Soon, Hamish, Jon, Ray and Sean came to an inevitable conclusion: given data volumes that were increasingly unprecedented, unmanageable, and unpredictable, their ability to blend best practices in data management and eDiscovery with first-hand experience as litigators could be valuable to their peers.
In 2015, the partners founded two entities: Mattingly Burke Cohen & Biederman LLP (MBCB), a boutique law firm focused primarily on commercial litigation; and Proteus Discovery Group, an independent eDiscovery services and consulting firm. Creating two separate businesses (instead of simply creating an eDiscovery practice group within MBCB) was a strategic decision: it's often easier for outside counsel to get approval to bring on a vendor like Proteus, but the partners can also act as eDiscovery counsel through MBCB should the case require it.
Creating savings - without sacrificing quality
Today, the experts at Proteus Discovery Group bring nearly sixty years of combined perspective in litigation, technology, and discovery management to every engagement. Some of the time and money-saving approaches in their toolkit include:
Strategically managing legal holds and custodian interviews to more appropriately target collections – since review and hosting are the biggest cost drivers, appropriate identification is crucial.

Defining tailored

review protocols and leveraging machine learning to reduce the volume of material to be reviewed by small teams of US-based attorneys.

Implementing platform-agnostic reviews, which means their teams are able to operate on a clients' accounts. Alternatively, they can recommend a platform appropriate to the needs of the case.
Drive for transparency leads to software innovation
Having built and refined a repeatable, defensible, affordable approach to eDiscovery, the team then took on an industry-wide challenge: transparency into document review projects conducted in Relativity.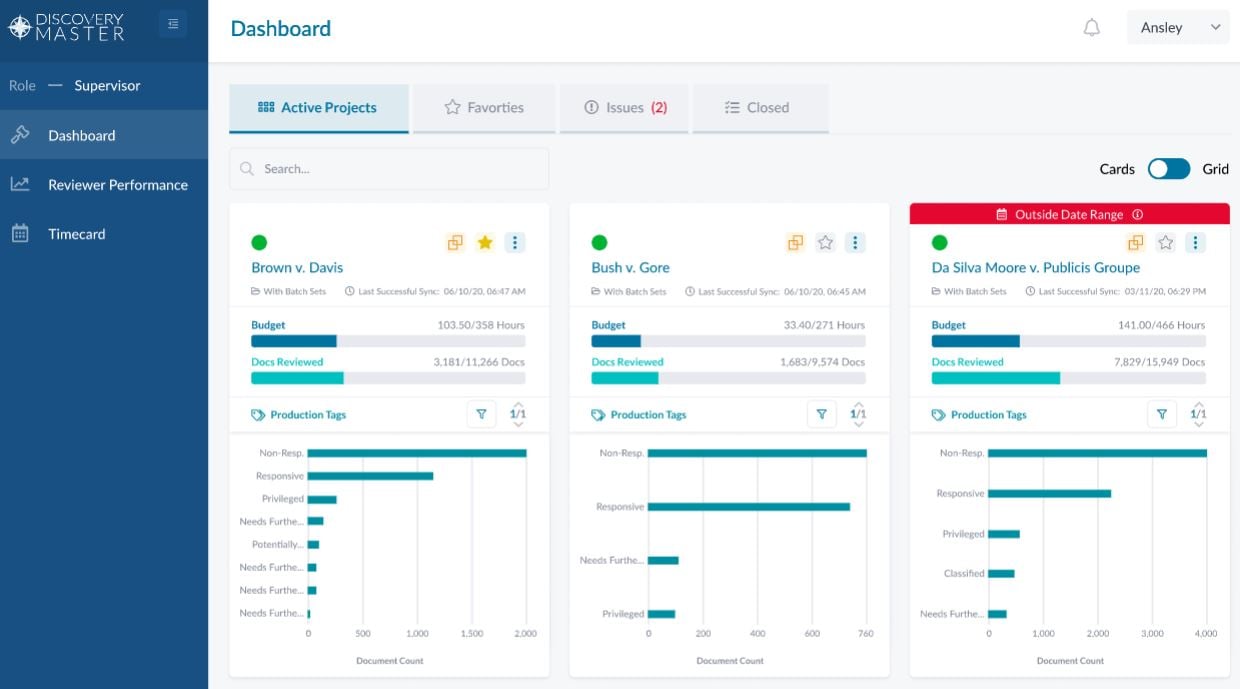 "Relativity is an excellent tool, and every bit of their market share is well-deserved. But the platform's power introduces a level of complexity. Most litigators and in-house legal teams that don't live in Relativity everyday struggle to pull the high-level data they need to effectively manage the litigation process and their budget," said Ray Biederman.
Because law firm litigators and in-house counsel are often engaged in multiple matters hosted by different channel partners, a single source of truth saves countless hours of manual project tracking in Excel. Building on their early lessons in improvisation and innovation, the Proteus team developed such a source: DiscoveryMaster, a platform that displays key metrics for every project – no matter which channel partner is hosting the data.
BigLaw sophistication without the BigLaw price
The experts at Proteus bring deep, platform-agnostic experience to every aspect of the eDiscovery effort, advising on the best tools for the job, leveraging machine-learning to the greatest extent possible, and using small, agile teams to minimize the cost of document review. But perhaps most importantly, Sean, Ray, Jon and Hamish offer clients their decades-long focus on efficiency, accuracy, and creative thinking. "We've come a long way from our days as associates going through bankers boxes in warehouses," said Jon Mattingly, "and we're proud that our blend of project management, technology, and legal acumen continue to drive positive outcomes for our clients."