COVID-19 has hit the legal industry incredibly hard.
Now more than ever, attorneys should consider document review work. Here are 5 reasons why:
Legal Experience
Document review work allows attorneys to develop critical thinking, legal reasoning, problem solving, and technology skills.
Review attorneys are frequently exposed to different areas of law and can hone discovery skills that seamlessly translate to the traditional legal marketplace.
Just like every great athlete focuses on the fundamentals of their sport, a firm grasp of document review yields invaluable insights for aspiring litigators or in-house attorneys. Document review is usually the most expensive part of discovery, which is the most expensive part of litigation. Aspiring litigators can leverage this experience to be more consultative for their clients, and aspiring in-house attorneys can leverage it to develop their business acumen and early case assessment planning.
Flexibility
Most document review vendors operate on a 1099 basis, and are inherently project-based, meaning you can ramp up or dial back your hours as your needs change. While projects typically operate on tight deadlines, you aren't signing up for a long-term commitment.
While document review has traditionally taken place in secure review rooms, remote review positions were increasingly popular even before COVID-19 forced most companies to shift entirely to remote review. So, you're in luck if you've looking for a legal position that doesn't require you to get out of your pajamas.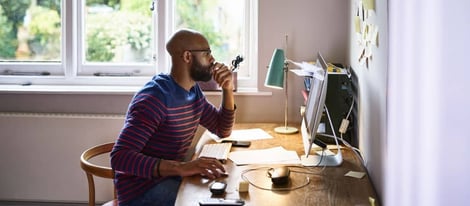 Create An(other) Income Stream
The rising cost of a law degree and a shortage of entry-level attorney positions have combined to considerably limit opportunities for many recent law school graduates. Document review work can provide a paycheck to help newly-minted attorneys pay their student loans while helping them avoid resume gaps.
Document review attorneys who maintain a full-time schedule can often earn more income than new attorneys in government agencies or smaller law firms.
It's also a great way for solo practitioners to supplement income as they build their client base.
Are you multilingual? Some companies pay a premium for attorneys who can assist with foreign language reviews.
Increased Technological Proficiency
eDiscovery has been a key driver of legal tech innovation, and remains one of the most tech-intensive parts of law.
While some eDiscovery firms exclusively use one review platform, others are platform-agnostic, meaning you'll become familiar with the pros and cons of multiple systems. This can come in handy if you go in-house and are vetting vendors, or if you go into a litigation role and are determining which tool is the best blend of required features and impact to the budget.
Technology prowess is a major factor driving document review work to third parties that used to be handled by law firms. It all comes down to core competencies: law firms aren't built primarily for document review projects, so they aren't at the forefront of innovation. This isn't a bad thing: capitalism is driven by specialization. Reputable third party document review firms can be an "x-factor" for law firms competing for discovery-intensive litigation.
An Alternative Career Path
There's no question document review work can help prepare you for in-house or outside counsel roles - but you may actually find that you like the eDiscovery world.
Document review is one part of it, but over time you can grow into project management, identification, collection, forensics, processing, expert witness testimony, consulting, business development, or a host of other areas that enable you to leverage a law degree in an area that may be more suited to your interests or lifestyle.
eDiscovery has seen an influx of private equity and M&A activity; it's been at the forefront of the movement toward ALSPs (alternative legal service providers); and it operates at the intersection of legal, IT, and business.
If you're looking for a way to supplement your income, increase your technology sophistication, or are considering an alternative career path, let's talk today.